School Business Community Partnership Brokers
As former Partnership Brokers for Newcastle and Lake Macquarie, Career Links adopted a strategic, whole of community approach to improving education and social outcomes. Partnerships were facilitated by Career Links with partners from the following sectors:
Education and Training
Business and Industry
Parents and Families
Community
Partnerships were designed to improve participation levels, student engagement and Year 12 or equivalent attainment. Career Links worked with key stakeholders to identify the needs of our region, help partners to agree on how they could work together towards a common purpose, and support partnerships to achieve their goals.
Aboriginal Employment Strategy (AES) - Work Inspiration
This program introduced Year 9 and 10 Indigenous students to various work places and provides them with necessary skills to apply for a position and ace an interview. The students identified to participate were particularly focused on pursuing a School Based Traineeship in 2015.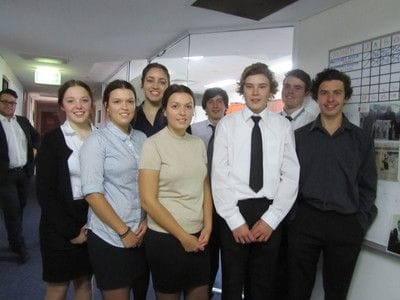 Partners
Schools: Cardiff High School, Maitland High School.
Business: AES, Westpac, Job Centre Australia.
Outcomes
The program provided opportunities for young people to view the world of work in a meaningful way, demonstrating career options that are genuinely available. It also enabled participants to develop practical strategies to confidently approach applying and interviewing for a job.
Multi Media Work Inspiration
The program offered students the opportunity to visit a local radio station and look at a range of careers provided in the multi media sector. The tour included the opportunity for the students to see firsthand what it was like to work in a radio station. They were given access to the studios and even a tryout at some of the skills needed to be radio presenter. It was a great experience for the students who met with staff who explained the type of work program-makers and journalists do, as well as the technical aspects of running a radio station.

Partners
Schools: Hunter Sports High School, The Big Picture School.
Business: ABC Radio, 1233 Newcastle.
Outcomes
The young participants gained a better understanding of not only the types of jobs available in the industry, but also the various pathways the staff have taken in their own careers.
Mental Health in Schools
The partnership aimed to support wellbeing in school communities and improve educational and social outcomes for young people.



Partners
Schools: Kotara High School, Newcastle High School, St Pius X High School.
Service Providers: ARAFMI, Headspace Newcastle, Hunter Institute of Mental Health, Hunter New England Health, Lifeline.
Outcomes
The partnership assisted staff in schools to better connect with Mental Health service providers. It is also supporting professional development and learning opportunities to raise awareness of mental health and reduce the stigma of mental illness within the community.
Hospitality Inspiration
The Hospitality Inspiration partnership aimed to increase interest of young people in hospitality careers by bringing professional chef's into school classrooms. The partnership also helps to:
Address uptake of Chef Apprenticeships.
Increase skills and inspire young people.
Increase parent interest in career planning by involving them in information sessions.
Provide work experience/ work placement opportunities for young people.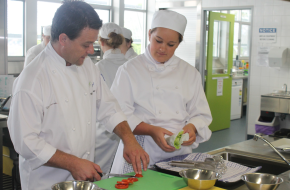 Partners
Schools: Callaghan College Wallsend, Waratah, Jesmond and Callaghan College Trade Training Centre
Employer: HTN - Hospitality Training Network
Outcomes
School retention and engagement in hospitality career pathways.